TOP NOTCH PRODUCTS,
QUALITY WORK
At Master Roofers, we work hard to provide a higher level of customer service than any other Manchester-area roofer. Apparently, we are succeeding. The comments and compliments we receive upon completion of a Manchester roofing project are very gratifying. You can read for yourself what our customers are saying about their experience with Master Roofers.

And if you're a customer, we'd love to hear from you! Give us your online review.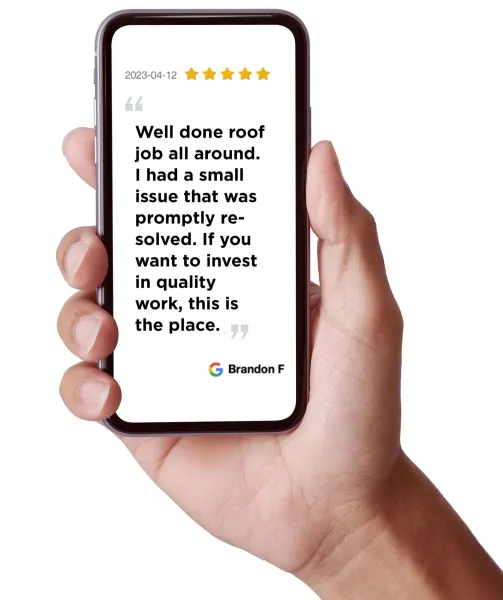 SEE WHAT OUR CUSTOMERS 
ARE RAVING ABOUT

Our customers have had such great experiences with Master Roofers that they gladly share their satisfaction with having a fully protected home and their appreciation for how we were there for them throughout the entire process.
This is one of the many reasons we are ranked as one of the top roofing contractors in the country as well as maintaining an A+ rating with the Better Business Bureau.
All of the Master Roofer employees had years of roofing experience and appeared to have pride in their workmanship and working as a team. As an observer, I was very pleased with their knowledge, demeanor and willingness to explain what the job entailed.

We have had them do roofing for us before and the quality of their work met their high standards as it always does. This was the third time over many years that this particular roof was re-roofed. They have worked on another shingled roof cottage for us and our garage roofs. We continue to be satisfied customers and appreciated the timeliness of getting this recent job done.

George Goedecke
Google
Don't take it from us, see what our customers are raving about.
With new reviews rolling in daily, we couldn't leave these ones out.

"Well done roof job all around. I had a small issue that was promptly resolved. Communication was always easy with their office or field staff. If you want to invest in quality work, this is the place."

Brandon F.
"On the day of the job Pat and Justin showed up and got right to work. I think the job was a little tricky as we have a metal roof over shingles. They had a busy day and Pat kept me informed as to the details. He explained how he was doing the flashings and the materials involved. He has a lot of experience and skill and showed me some pictures when the job was done. They did a great job and we are very happy. They also did a thorough job cleaning up the area. They are good guys and Phyllis was a pleasure to work with also. I highly recommend Master Roofers/ Skylight Masters."

Ray Dionne
"Once the arrived, they were thorough and fast! They let me know when they started and completed the job. I was able to pay my invoice over the phone. Great quality, experience, and it was affordable."

Katelynn Robinson
"The two workers who came to repair my roof were very professional and courteous. They went above and beyond to fix what needed to be done. Would use this company again for sure. Great job!"

Dave Erickson
"Very nice workers, skylights look great! Very neat , workers came on time and finished in one day!! A good experience."

Sadie Dudley
"I can definitely recommend this roofing company. They were responsive, on time, and professional and took care of our worn ridge caps and built us a new cricket for our roof."

Devin Cutler
"Master Roofers just replaced our old leaking skylights with new ones. I cannot express what a Great Job they did. John and Joel were very hard workers and worked all day in the hot sun. They covered our bureaus, floors for us. They kept us updated with each step. The two men were Friendly, and such hard workers. They matched the shingles color perfect, as well. We were thrilled with this Company from the Gent who came to give us full details of the project including the final cost, the receptionist, and the two workers, John and Joel. We definitely would recommend this company to anyone needing any type of roofing needs, The cleanup was unbelievable."

Charles White
"We are very satisfied with Master Roofers LLC quality of work, their professionalism, and their customer service. They replaced two skylights at our condo, matched our existing shingles, did so in a timely fashion, and had to participate in HOA approvals/bureaucracy. They also informed us about the federal tax credits available if we went for solar options, which we did. I am grateful to no longer have nasty, leaking skylights in our home and very happy to be able to take some of this installation cost off our tax bill next April!"

Dale Shriver
"Very satisfied with entire process . Initial assessment was performed as scheduled and was very thorough. Estimate provided was complete and reasonable. Work was performed as scheduled, Workers took great care to protect inside flooring and furniture and did a nice job installing interior trim and paint. Hopefully we will have no leak issues, but only time will tell. Given our experience with Master Roofers to date, I will expect any future issues to be resolved quickly."

JManheim
"Thank you, MasterRoofers Team, for getting our roof up to code. Special thanks to Karolyn and Mr. Burton for your patience, diligence and professionalism!"

Ashanti & Anna EL-Amin
"Master Roofers did a great job replacing my roof. They were very professional, quick, and respectful of my property."

Jeffrey Comeau
"We reached out to MR to fix an old, leaking skylight. They were quick to come out to give us options and estimates for a more functional solution. When the skylight arrived they arrived and were professional and courteous with the installation. Unfortunately, the interior finish work wasn't quite what we had hoped. We reached out to the company and had a reply that night from ownership and within a few days a senior team was back and the finish work was perfect. We really appreciated them standing firmly behind the quality of their work and would have no concerns about recommending them to friends and using them again."

Tom Cronin
"Very quick response, courteous and professional service crew, repair was done quickly and on time as promised, good price compare to other companies"

Rita Goldburt
"John from Master Roofers came out to fix a leak on my flat rubber membrane roof. He was prompt, courteous, professional and efficient. Rained hard two days after the repair and our ceiling was dry as a bone. I highly recommend and would use again based on this experience."

John NH
"The team was so professional! We cannot say enough about Master Roofers. We will use them for all of our roofing needs. Amazing people and wonderful work!"

BM Lilley
LIKE 
WHAT YOU SEE?
You too can have a sense of pride every time you pull into your driveway with your NEW roof.
Master Roofers should be your first and only call when in need of anything related to roofing. Our roof was a bit old and unfortunately a leak had started to occur, so after getting a recommendation from a friend, we gave them a call. The salesman John came out and thoroughly checked things out...
Master Roofers should be your first and only call when in need of anything related to roofing. Our roof was a bit old and unfortunately a leak had started to occur, so after getting a recommendation from a friend, we gave them a call. The salesman John came out and thoroughly checked things out before ultimately taking care of the issue himself (on the spot)!

Nobody is thrilled to replace their roof, but Master Roofers takes the time to explain your options, provides excellent customer service, and works in a professional and respectful way. If you're in need of a roof or skylights, I'd recommend giving Master Roofers a call. You won't be disappointed.

Eric MacDougall